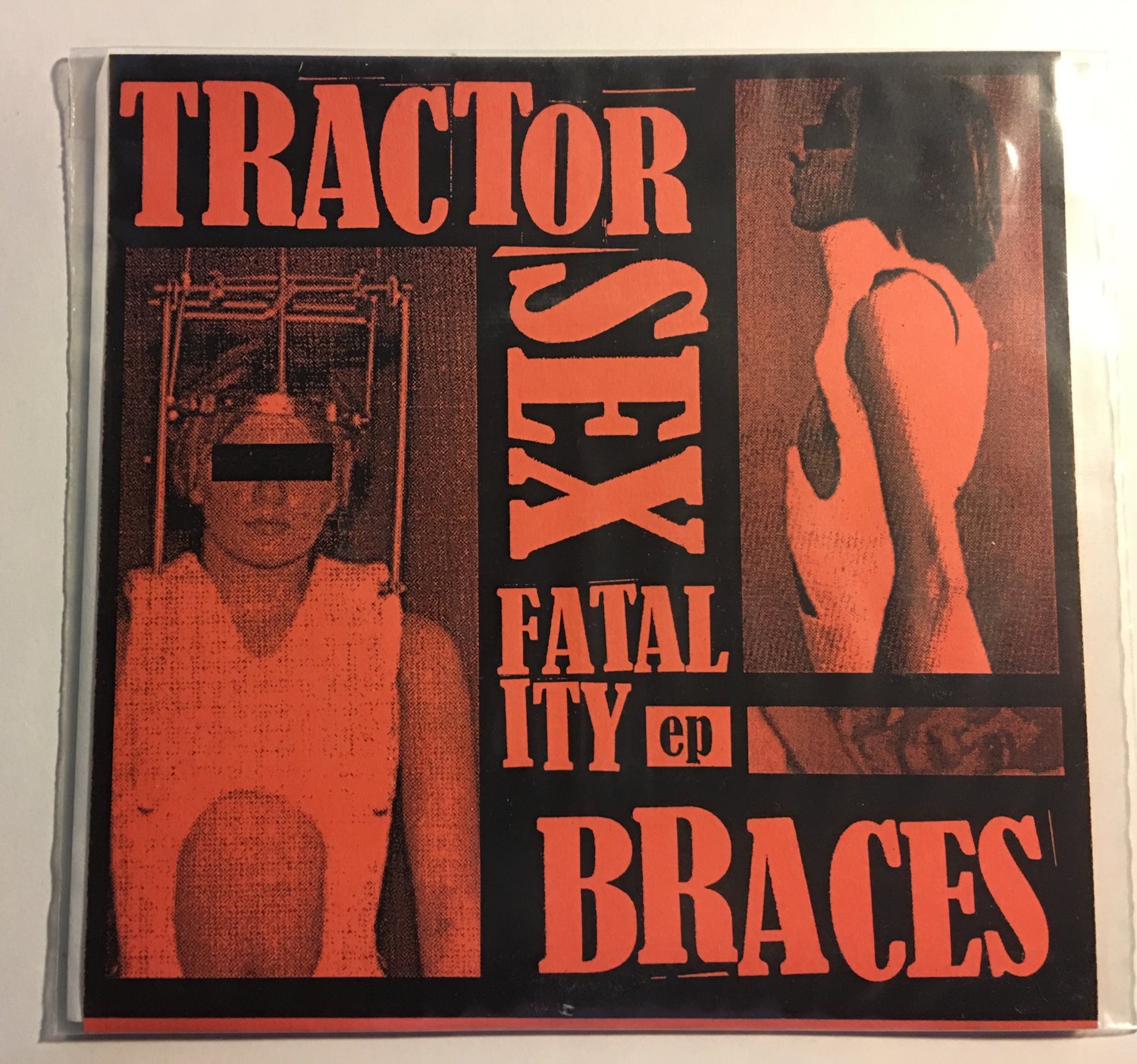 [LAST COPIES] TRACTOR SEX FATALITY - Braces 7" EP (Kill Sounds KS-001/Unscene Sounds US7003, 2007)
TRACTOR SEX FATALITY - Braces 7" EP (Kill Sounds KS-001/Unscene Sounds US7003, 2007)
First (and only) release on our Founder/All-Arounder's first label, Kill Sounds, from 2007 (yet recorded two years prior). This was the last of the great Tractor Sex Fatality's singles, co-released by the group's own Unscene Sounds. TSF, The True Sons of Pigfuck, were a Northwest born'n'bred garage/noise combo from 2001 to 2007 and issued releases primarily on Dead Beat and Big Neck Records. Known for their chaotic'n'crazed live shows, their releases additionally offer no quarter, serving sludgy, unhinged and brutal musical morsels, led by the vocal exorcisms of Rob Fletcher (aka Rob Vertigo). During their existence the lineup had members coming and going, but on their final platter they're pared down to the potent quartet of the future MUSK frontman Fletcher letting loose with the caustic grunts, squeals and microphone deep-throat, while the all-consuming sound of John Laux's (Musk, Slicing Grandpa) lacerating'n'slashing guitars and Dave Bessenhoffer's (The Blow Up, Brotherhood Of Electricity, The Gimmicks, The Hex Dispensers) steamrolling basslines are tethered earthbound by drummer Ward Reeder (The Gloryholes, Sinister Six).
Potent 'til the end, their last EP features the low-brow'n'salacious "Whiskey Shits & Stripper Tips," the sonic love-letter "Braces" dedicated to Fletcher's long-lovin' lady and even offers a thrashy, deconstructed cover of the Circle Jerks "Coup De Tat."
(Issued in orange-red & black and special edition "blood splattered" transparency covers.)—latter edition sold out.
A01 Whiskey Shits & Stripper Tips
A02 Coup De Tat
B01 Braces