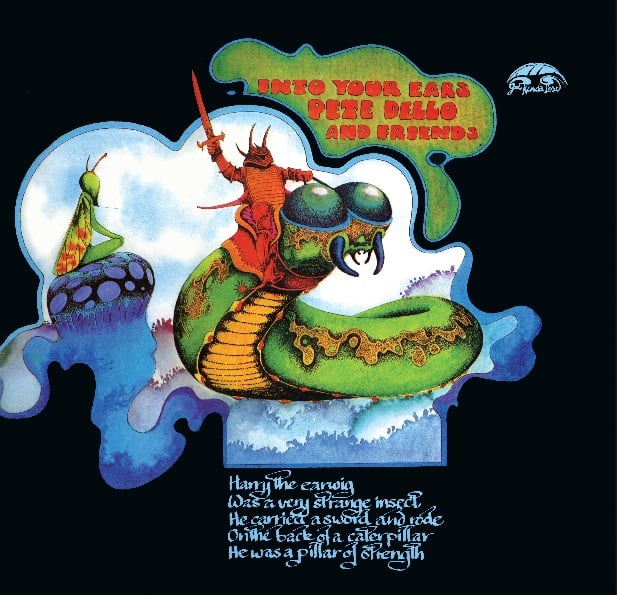 PETE DELLO AND FRIENDS - 'Into Your Ears' (GKL007) LP - ALL EDITIONS
***SPANISH IMPORT LP of Pete Dello and Friends' Into Your Ears—choose STANDARD or BONUS Editions (which include free custom buttons & prints, just make your selection) below, Limited to 66 Packs.
Purchase options appear in pull-down box which follows the 'BY PETE DELLO' link. Clicking the 'Add to Cart' option purchases the BONUS LP Edition.***
Originally issued in 1971 by Nepentha Records—presided over by Kinks/Troggs manager Larry Page—Into Your Ears is the sole full-length offering from Honeybus founder member Pete Dello (assisted by a coterie of close friends).The album is a wonderful, timeless work of incisive, plaintive folk-pop balladry and buoyant, idiosyncratic creations, led along by Dello's honeyed voice (which eases effortlessly into falsetto) and expertly executed arrangements featuring minor orchestrations.
Into Your Ears represents the zenith of Dello's songwriting, comprised of primarily tunes written specifically for this project (supplemented by a few tracks intended for Honeybus which were re-cut for the occasion). The songwriting reflects a jovial playfulness, but also feelings of intense lovelorn longing, hope, wistfulness and moments that could serve as a great soundtrack to a break-up (with the brightness of delivery never making them ache with depression). Everything on Into Your Ears comes from personal life experiences, even if twisted through a unique prism, with the deep emotions, whimsical moments and orchestration that never clutters the arrangements all achieving perfect balance. But, above all, the songs resonate with a pure dedication to "pop" and beckon you to listen in repetition, until they're at one with your very existence. There's something present, timeless and at times nearly indescribable about this very special set of songs that can't be pinpointed by simple equation.
Widely regarded by Honeybus fans, '60s-'70s collectors and anyone who's happened into its beatific orbit, Into Your Ears is a lost classic deserving of further exposure.
RIYL: Ray Brooks, Duncan Browne, John Cale's Paris 1919, Ray Davies (The Kinks), Bill Fay, Nick Garrie, the early careers of Ralph McTell and Clifford T. Ward, etc.
Highlights:
• Got Kinda Lost Records continues with their series of under-heard heroes of pop with our seventh label release from Honeybus founder member Pete Dello.
• Recorded in 1971 while carrying a timeless songwriting flair sure to appeal to fans of '60s/'70s pop, as well as its modern indie outgrowths.
• Exhaustive liner notes (5,000+ words) culled from interviews with Jeremy Cargill (Ugly Things / Got Kinda Lost), presenting the most thorough examination of Dello's career to date.
• Original gatefold LP artwork restored, illustrated by Roger Dean (infamous for working with British progressive groups, Vertigo Records, Uriah Heep, Yes, etc.), standing as one of the few non-progressive music projects he's been involved in during his long career.
Tracklist:
A01 It's What You've Got (3:18)
A02 There's Nothing That I Can Do for You (2:38)
A03 I'm A Gambler (3:18)
A04 Harry The Earwig (2:25)
A05 Do I Figure In Your Life (2:43)
A06 Uptight Basil (2:44)
B01 Taking The Heart Out of Love (2:56)
B02 On A Time Said Sylvie (2:27)
B03 A Good Song (3:03)
B04 It's The Way (2:09)
B05 Go Away (2:26)
B06 Arise Sir Henry (2:44)