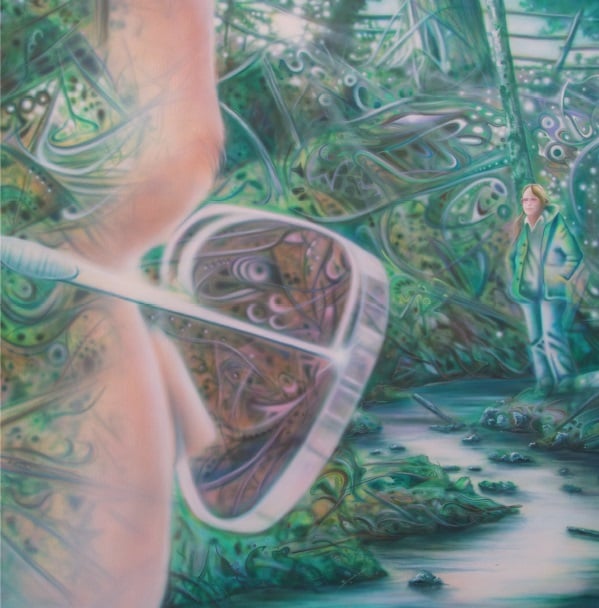 PAUL MARCANO & LIGHTDREAMS '10;001 Dreams' (GKL006/GKL006CD) ALL EDITIONS
***SPANISH IMPORT 2LP & CD Editions of Paul Marcano & LightDreams' 10,001 Dreams—choose STANDARD or BONUS Editions (which include custom buttons & prints, just make your selection) below, Limited to 66 Packs.
Purchase options appear in pull-down box which follows the 'BY LIGHTDREAMS' link. Clicking the 'Add to Cart' option purchases the BONUS CD Edition.
"[10;001 Dreams is] a perfect distillation of [Paul Marcano's] musical essence: thoughtful, psychedelic, pop-oriented music but with a deeply progressive ear for song structure and the intuitive glow of a well-crafted lyrical refrain." (Jack D. Fleischer—10, 001 Dreams, Liner Notes)
A thematic sequel of sorts to the sci-fi psych odyssey exploring cosmic ideology that was the British Columbians debut—LightDreams' Islands In Space—10;001 Dreams from 1982 finds its leader, Paul Marcano, edging closer lyrically to the utopian outer space colonization he'd previously conjured while under the sway of physicist/space activist/author Gerard K. O'Neill. The ever-present percussive acoustic layers from Islands In Space remain, while the New Age-like keyboard washes are nearly totally supplanted by mellow, wickedly fuzzed, floating layers of dreamy, treated, atmospheric electric guitar. As scribe Jack D. Fleischer says, at the time of the recording the group had reached, "a certain kind of psychedelic revelation that had become completely frontal," and that is emphasized by this increased use of soaring electric coloring.
Originally issued solely on cassette, Marcano and Lightdreams' home-recorded (yet hi-fi) lysergic creations give nod to the original British psychedelic and progressive eras, while maintaining a firm foot in hook-based, melodic folk'n'pop and are a guaranteed treasure for those searching for unheard and otherworldly joys.
RIYL: Dreamies, late '60s Donovan, Robert Lester Folsom's more psych-leaning moments, McDonald & Giles, Rick Saucedo, Simones, Bobb Trimble, Tyrannosaurus Rex, et al.
• First time LP issue with remastered sound.
• In-depth liner notes from collector Jack D. Fleischer.
• Previously unseen photos from Paul Marcano's archives.
• Includes download coupon of the 90-minute unexpurgated 1982 cassette release, which required minor revisions to be presented as a double-LP.
"…stretching our understanding of pop-psych and bursting our tiny minds with visions of unfound landscapes, [10;001 Dreams] is thee underground psychedelic masterpiece from Canada…"—Aaron Levin (Weird Canada)
Tracklist:
A01 10;001 Dreams (13:47)
A02 Stream III (5:02)
A03 Everyone Grows And Grows (5:43)
B01 Visual Breakfast (10:49)
B02 Who Is The One (6:51)
B03 Follow The Stream (4:15)
C01 Being Here (3:58)
Subtle Arrival (3:19)
Something Out Of Nothing (3:12)
Subtle Departure (3:34)
Windsong For The Rain (7:38)
Erona Interlude (0:32)
D01 Primordial Therapy (14:29)
D02 Maj Moorhshum (5:45)
D03 Building Islands In Space (3:43)