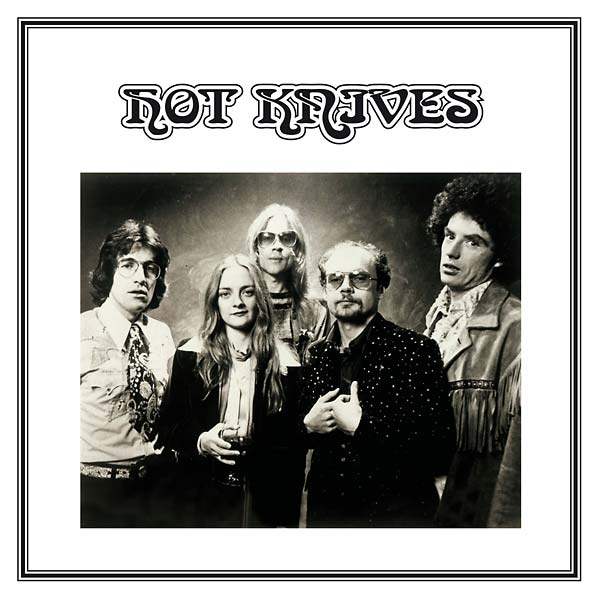 'Hot Knives' LP (GK001 - Standard Edition)
**SPANISH IMPORT**
Got Kinda Lost Records—named after the song by ex-Big Star founder member Chris Bell—is the newest reissue imprint by the Guerssen Label Group (of Spain). Curated by Jeremy Cargill (Assistant Editor for Ugly Things Magazine), the label's focus is archival and reissue work specializing in the realms of proto-punk, '70s pop/power pop, glam, psych, privately-pressed hard rock, and "out of time" treasures.
Hot Knives were a late period folk-rock / power pop combo from the latter '70s San Francisco—and held two ex-Flamin' Groovies members in their ranks (guitarist Tim Lynch, and drummer Danny Mihm). Led by the hair-rising boy-girl sound from the Houpt siblings (Michael and Debra), and bolstered by the ringing, jangly guitars of Lynch/Houpt, and driving rhythm section of Mihm and bassist Ed Wilson, sparks flew when they united as a whole. This set collects the tracks from their late '70s singles, and a further batch of dynamite tracks pressed into wax (seeing vinyl release for the first time).
As music journalist Jud Cost (Sundazed Music / Magnet Magazine) says in the extensive liner notes, "…Hot Knives were a little too late for the '60s hippie trip and a little too hippie for the crash'n'burn punk rock brushfire of the mid-'70s," but their consistent songwriting and way with a hook should appeal to all with a 'pop heart' beating in their chest, fans of '60s SF sounds, and folk-rock.
Tracklisting:
A01 - Sooner or Later (3:39)
A02 - So Fast (2:50)
A03 - Hey Grandma (2:50)
A04 - Lovin' You (3:32)
A05 - You Can Get Anything You Want (3:23)
A06 - Take Me Back (2:51)
B01 - I Hear the Wind Blow (3:57)
B02 - Winter's Come (2:40)
B03 - Secrets About Me (5:02)
B04 - Around the World (2:51)
B05 - Turning Into (3:26)
For soundclips visit our parent label, Guerssen, paste the following link into your web browser: http://www.guerssen.com/catalogue.php?lang=en&ide=14984
Highlights:
• Got Kinda Lost Records presents the first in a series of exhumations from the realm of privately-pressed pop, with our first label release from Bay Area group Hot Knives.
• Group features ex-Flamin' Groovies member Tim Lynch and Danny Mihm.
• Recorded in the latter '70s, while still firmly attached to a '60s folk-rock style, giving it an "out of time" quality.
• Extensive liner notes by Jeremy Cargill (Ugly Things Magazine / Got Kinda Lost Records), and Jud Cost (Sundazed Music / Magnet Magazine).
• RIYL: Byrds, Flamin' Groovies, Starry Eyed & Laughing, Anonymous, Jefferson Airplane, Beau Brummels, Moby Grape, etc.
• "The Hot Knives are the best thing happening in San Francisco these days..."
Greg Shaw, Bomp Newsletter (January '77)