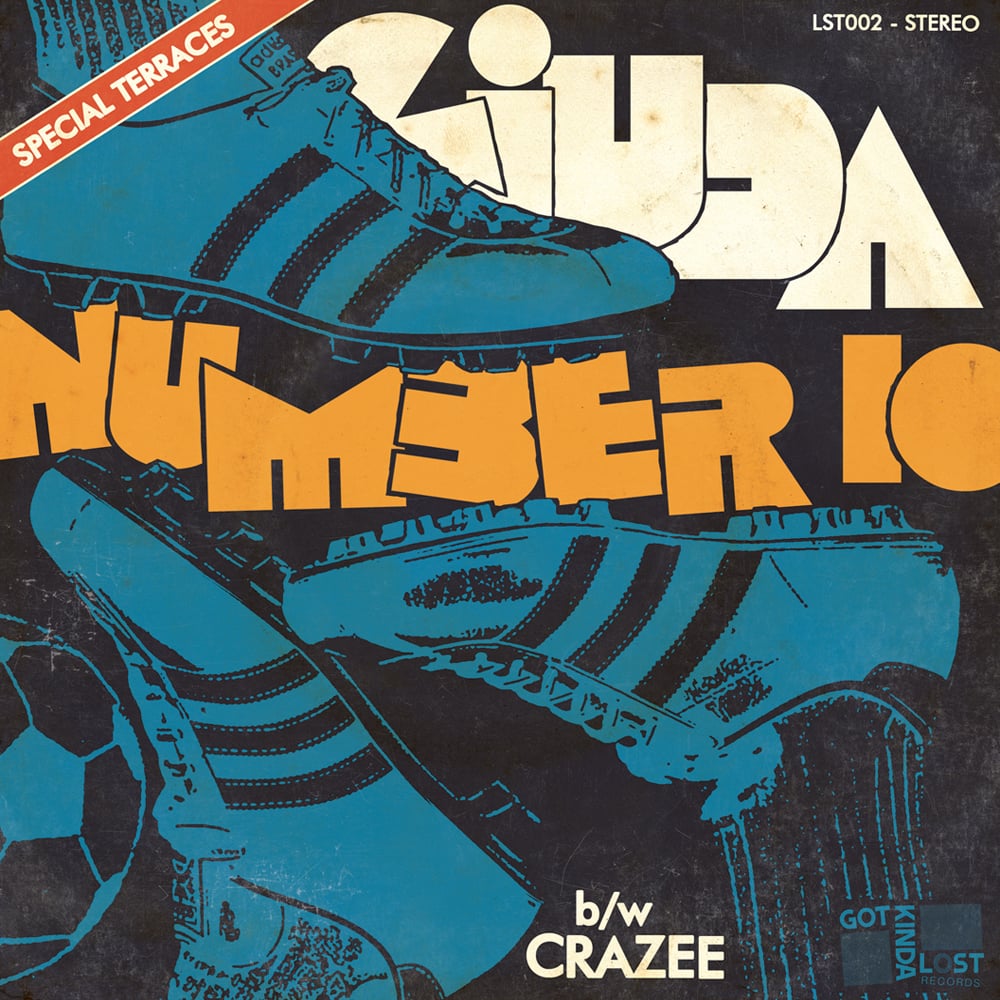 [PRE-ORDER] GIUDA - "Number 10" b/w "Crazee" 45 (Got Kinda Lost, 2018 - LST-002)
LST-002 GIUDA "Number 10" b/w "Crazee" [PRE-ORDER]
*ALL PURCHASES OF Giuda AND Mama TITLES WILL BE SHIPPED LATE AUGUST.
Emerging from the ashes of the Killed by Death-style punk rock'n'roll band Taxi (1999-2007), Rome-based combo Giuda sonically time travel a few years prior to the late '70s punk explosion, reveling in the specialness of the pre-punk modes of bovver rock, junkshop glam and pub rock. After countless tours, seven additional singles and three full-lengths for international labels such as Burning Heart Records, Damaged Goods, Dead Beat and Rise Above, Got Kinda Lost Records—unleashing our first trio of contemporary releases—are over the silvery moon to be taking it back to the beginning and reissuing Giuda's long out-of-print and sought-after second release, "Number 10" b/w "Crazee."
The blazing perennial anthem on the topside, "Number 10," is perhaps the flashpoint where the Giuda legend begins, pushing the Giuda Horde in rival numbers to legions of Turbojugend fanatics around the globe, constantly spreading the ripe word via a ceaseless touring schedule. Custom-fit for the terraces or the dance hall, "Number 10" riffs powerfully over insistent maracas and drumbeat, dotted with Wayne Kramer (MC5) via Chuck (y'know 'im) lead lines, in ode to all the rough'n'ready footballers storming the fresh-cut greens. While a similar stomp is brought out on the brief B-side, "Crazee," with its (perhaps for the first time) Berry'ized choogle, lasting barely over a minute, and illustrating in ten-foot-tall letters where PUB ROCK meets the beginning of '70s punk.
Previously issued by the Italian label Surfin' Ki in 2010 (and repressed as three-way split between Surfin' Ki, Japan's Waterslide Records and Germany's Contra Records in 2012), Giuda's second two-sider is seeing US release here for the first time as well, with (in the junkshop typical fashion) newly designed artwork by Tony Crazeekid (Crazee Kids Sound) for its debut on North American soil. Printed on felt weave paper in a top-loading pocket-sleeve produced by the fine folk at Imprint and manufactured at Third Man Pressing in Detroit, this release is limited to 700 copies worldwide. (500 black / 200 orange-gold, the latter only available directly from GKL.)
RIYL: Dr. Feelgood, Eddie & The Hot Rods, Faz Waltz, Gary Glitter, MAMA, Sheer Mag, Slade, So What, Suede Razors, The Sweet, etc.


Tracklist:
A01 Number 10 (2:20)
B01 Crazee (1:15)