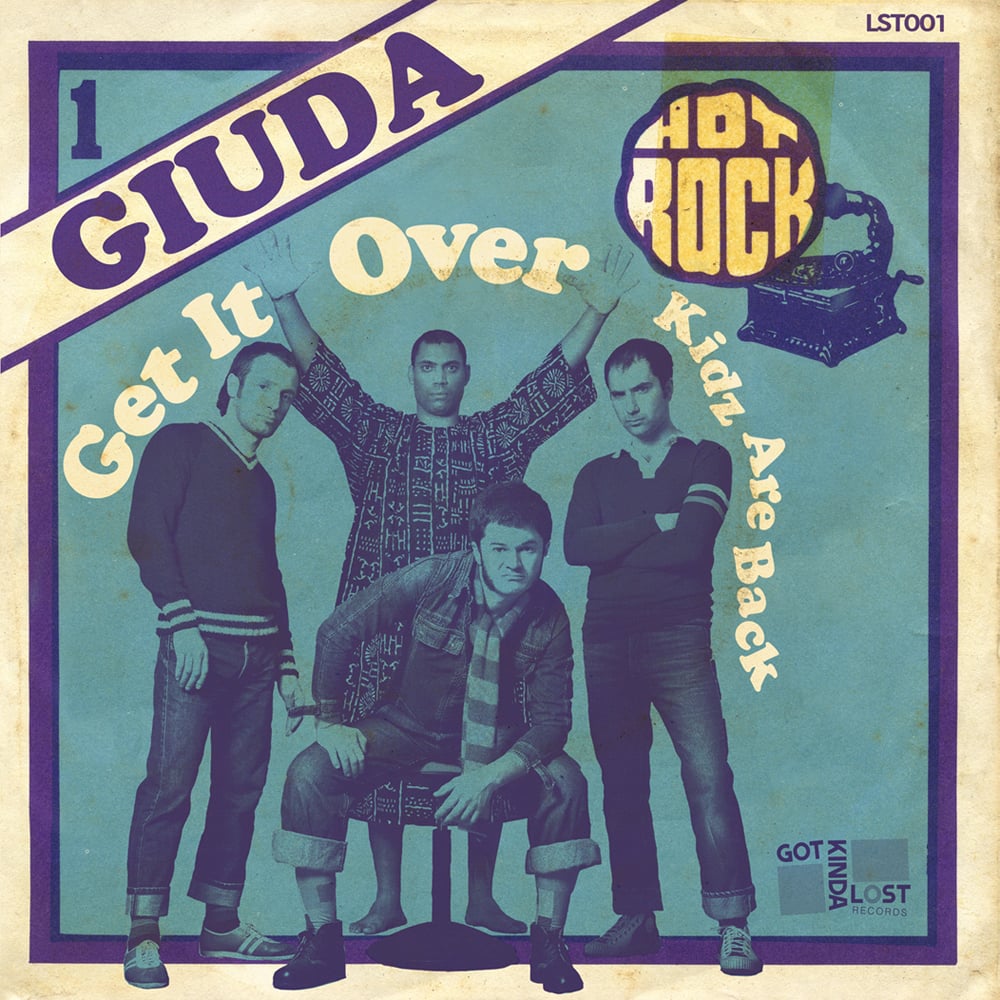 [PRE-ORDER] GIUDA - "Get It Over" b/w "Kidz Are Back" 45 (Got Kinda Lost, 2018 - LST-001)
LST-001 GIUDA "Get It Over" b/w "Kidz Are Back" [PRE-ORDER]
*ALL PURCHASES OF Giuda AND Mama TITLES WILL BE SHIPPED LATE AUGUST.
Emerging from the ashes of the Killed by Death-style punk rock'n'roll band Taxi (1999-2007), Rome-based combo Giuda sonically time travel a few years prior to the late '70s punk explosion, reveling in the specialness of the pre-punk modes of bovver rock, junkshop glam and pub rock. After countless tours, seven additional singles and three full-lengths for international labels such as Burning Heart Records, Damaged Goods, Dead Beat and Rise Above, Got Kinda Lost Records—in our first contemporary release—are over the silvery moon to be taking it back to the beginning and reissuing Giuda's long out-of-print and sought-after debut release, "Get It Over" b/w "Kidz Are Back."
The solid-sender of a topside, "Get It Over," is a stomping, near instrumental, shot through with playful synth lines, repetitious chants and gang-style vocals, sure to bring mile-wide smiles to anyone who's ever proudly spun sides by glam champs Gary Glitter (& The Glitter Band), Slade or The Sweet. While the flip is a textbook lesson in chugging Berry-ized (Chuck, that is) rock'n'roll, favored by the likes of Eddie & The Hot Rods' early years or the Feelgoods.
Originally issued by the Italian label White Zoo in 2010, Giuda's debut two-sider is seeing US release here for the first time, with (in the junkshop typical fashion) newly designed artwork by Tony Crazeekid (Crazee Kids Sound) for its debut on North American soil. Printed on felt weave paper in a top-loading pocket-sleeve produced by the fine folk at Imprint and manufactured at Third Man Pressing in Detroit, this release is limited to 700 copies worldwide. (500 black / 200 opaque blue, the latter only available directly from GKL.)
RIYL: Dr. Feelgood, Eddie & The Hot Rods, Faz Waltz, Gary Glitter, MAMA, Sheer Mag, Slade, So What, Suede Razors, The Sweet, etc.


Tracklist:
A01 Get It Over (1:55)
B01 Kidz Are Back (1:45)