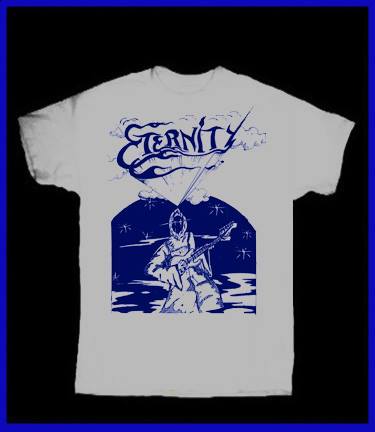 ETERNITY Custom T-Shirt (AVAILABLE IN TWO COLORS)
Professionally laser printed and made-to-order by the fine folk at Altamont Records—and designed in cooperation with Altamont main-man Adam Turkel incorporating vintage Eternity artwork—these t-shirts are made to last and get better with every wash! These tees are designed so the ink becomes one with the fabric as it softens over several washings, replicating the feel of your favorite vintage t-shirt.
Available in Light Grey/Navy Blue (Sizes Youth Medium-XXX-Large)
Available in White/Navy Blue (Sizes Youth Medium-XXX-Large)
Printing, packing and shipping takes 3-5 days for US customers, and will be fulfilled by Altamont Records. US customers can expect their shirts delivered in around a week, while foreign orders will take longer depending on location. Thank you for your patience while we fill your order!