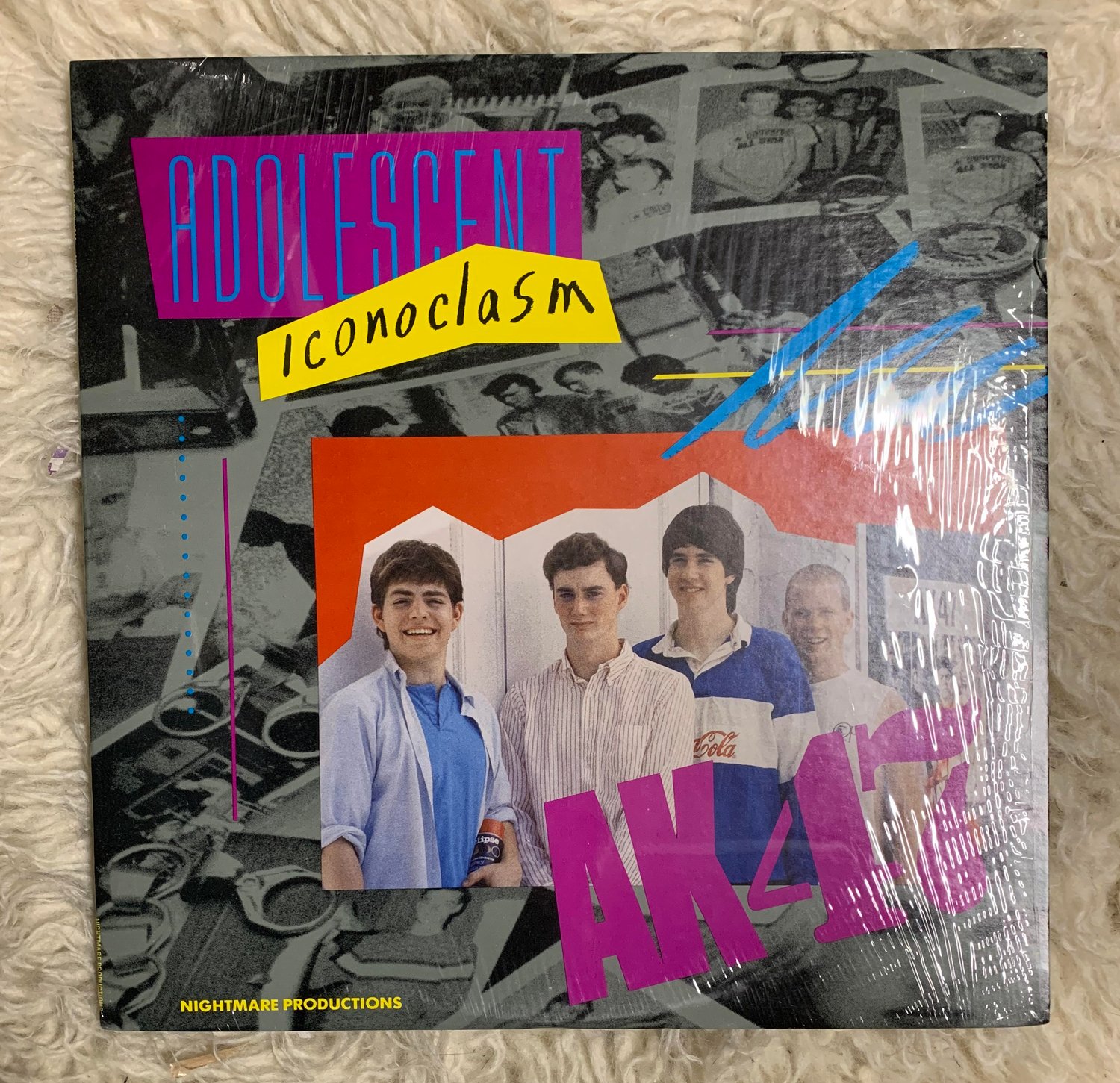 AK47 - 'Adolescent Iconoclasm' LP (Nightmare Productions, 1987) [1987 Original]
AK47 Adolescent Iconoclasm LP (Nightmare Productions, 1987)
From the rear sleeve:
"Together since 1984, AK47 exemplifies a new vision of modern rock. Transcending punk, pop, and new wave, the group's premier album has roots grounded in the period beginning with the British invasion sound of the mid-1960's and culminating in the powerful rock groups of the late 60's and early early 70's. But while aware of influence from the past, AK47 consistently produces forward-looking music that is both innovative and contemporary. Adolescent Iconoclasm is a brash, uncompromising explosion from modern suburbia—sometimes excessive, often iconoclastic, completely filled with the new spirit and energy of awakening youth. The album combines simple chordal rhythms and electric harmony with youthfully poignant lyrics to produce a texture of independence and assertiveness, while generating (and answering) a mixture of feelings, not the least of which is just plain fun."
While the sleeve notes are a bit high-minded or lofty, they're not far off the mark concerning where the sound emanates from. There's fuzz a'plenty in a '60s-inspired fashion across the platter, belying the 1987 release date and how square and youthful the group appears—if they'd been together since '84, they'd nearly all had to have been pre-pubescent. Not a "punk" album in the sense of the commodification of the term, nor really what you'd expect from 1987 Chicago, with not a hint of AOR or over-production (lending a slight out-of-time quality). There's shades of Crystalized Movements, Dead Moon, or The Wipers in their '60s worship, and an aggression and sound akin to early SoCal punk/hardcore like the Adolescents in others, plus nods to blues, some metallic riffing, piano balladry and a smattering of wah-wah elsewhere.
A solid and unexpected LP which Rich and John Haupt both remarked on as a "WTF" or "piss-off" LP when I shared it with them upon finding it a few years back, as there's something for everyone, but will have folks scratching their heads as to why the sound of the few tracks they dig doesn't stretch across the whole platter.